MotoCalc has revolutionized the way modellers choose electric power systems for their electric RC planes. The MotoCalc MotoWizard can:
Choose the right power system for your model and how you want to fly it.
Optimize a set-up using the components you have on hand.
Using the MotoCalc Workbench, you can:
Predict system and aircraft performance and flight time.
Compare predictions for different power system configurations.
Share projects and data with other MotoCalc users.
MotoCalc will save you time and money by reducing the need for experimentation!

MotoCalc works with Windows® 10, 8, 7, Vista, or XP.

MotoCalc Tutorial. Our Tutorial Introduction to MotoCalc provides a step-by-step illustrated guide to using MotoCalc.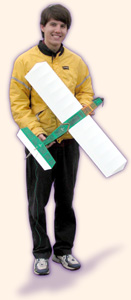 The quickest way to get MotoCalc is directly from our web site. You can:
Download the MotoCalc installation program.
Run the downloaded program and follow the on-screen instructions to install MotoCalc.
Try it for free for up to 30 days.
If you are satisfied, click Order a Key or CD in MotoCalc to purchase a registration key or CD.
Or, you can:
Registering your downloaded copy of MotoCalc costs only $39. If you prefer a CD version, there is an additional $10 charge to cover media, shipping, and handling.